This Week—September 30
Upgrade to paid to play voiceover
Hello! It's the last day of September, which is mind-boggling to me. I'll be writing some deeper reflections on the whole month of September next week for my monthly post.
This has been another good week! I try to focus always on the positive things, always maintaining gratitude for the days I experience. Everyday, I give thanks to my family, including Wilma of course, and to friends, a safe apartment with beautiful gardens, my warm and cozy bed, my hot shower and bath, and a kitchen filled with yummy food. And, to this list I add on gratitude for the things I did that day, for example, a voluminous but tender rain during my daily walk, my encouraging painting teacher and classmates, a zany and caring writing teacher, my writing group and our Slack channel, rooftop yoga and ice cream with an old friend, professional encouragement and support from a newer friend, birds and butterflies and colorful sunsets.
I've noticed that just this simple act of gratitude at the end of each day, it's been putting me on this positive feedback loop of having more and more experiences of things to be grateful for. This, of course, is not to say that I don't experience 'negative' experiences—walking in the pouring rain that has drenched my leggings and shoes and socks, sharing a paper-thin wall with loud neighbors with young children who express themselves primarily through screeching and wailing at all hours of the day, kitchen spills and messes, lulls in work projects, and more—but rather it's been helpful for me to reframe these, to see them in the larger scheme of things, and to lessen their importance. Acknowledging the 'negative' experiences, observing them for anything positive I can learn from them, and then letting them go; focusing more of my attention to the more 'positive' experiences I have. As they say, where your mind goes, attention (and energy) flows!
This week I've been: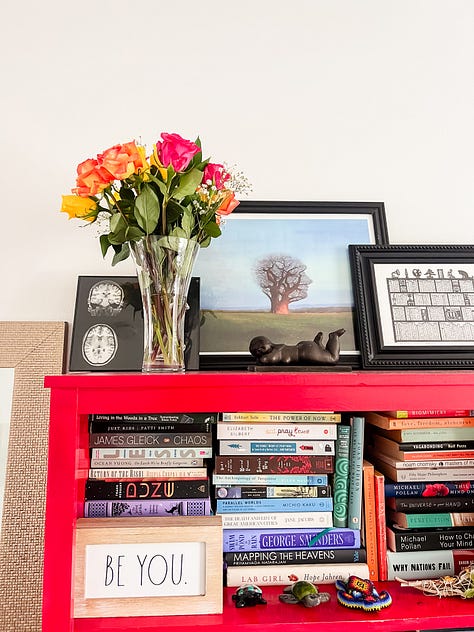 Keep reading with a 7-day free trial
Subscribe to Light Balance to keep reading this post and get 7 days of free access to the full post archives.